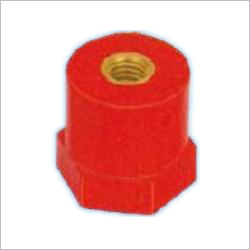 Round Hex Standoff Insulators
Product Description
Round Hex Standoff Insulator is made from best quality fiberglass-reinforced thermo-set polyester. Its make ensures resistance against moisture and heat. Molded for high-strength, the insulator boasts of greater mechanical strength. Many electrical installers are able to crank up the closer height tolerances. This is highly applicable for perimeter grounding as well as ground bar applications. Round Hex Standoff Insulator is a a flame retardant product that stay immune to track. It is proffered with boosted mechanical strength as well as high arc resistance. Its functional efficiency is never deviated die to the high torque of any source.
Key Points of Round Hex Standoff Insulators:
Shows optimum dielectric properties even at high humidity and raised temperatures.
Known as the shatter resistant product of high applicability, provide regulation of current with speed and safety.
Boasts of optimal torque strength and high-quality current modulation.
Its configuration makes it apt for indoor as well as outdoor applications.