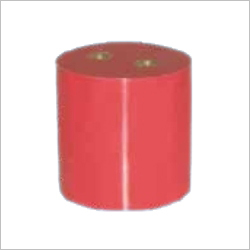 Cylindrical 4 Inserts Standoff Insulators
Product Description
MM Export deals in best quality Cylindrical 4 Inserts Standoff Insulator, which is provided with high tensile strength. It can withstand the pressure and boats of advanced cantilever strength. The compression strength is the common attribute of this product. Another insulating property of this is its optimum dielectric strength. Also, it shows optimum arc resistance and can defy the placement of a surface-conducting course that occur due to high voltage or low current characteristics. The Cylindrical 4 Inserts Standoff Insulator has sufficient thread size as well as insert material. It is proffered with many threaded metal inserts that ensures its easy mounting onto walls as well as cabinets.
Key Points of Cylindrical 4 Inserts Standoff Insulators:
Capable to accommodate a wide assortment of attachment bolts, can lessen the power damage and wastage of energy.
Highly resistant to distortion and rusting, ensures regulation of cir rent.
Suited for the applications, in need of high torsion on mounting bolts.
Has optimum resistance to shatter and vibration, features four insert provisions.